"Knowing the economic and societal impact of brain disorders, it's time to think and act differently about brain health."
"An integrated team science approach to research that looks across brain disorders will generate the knowledge needed for the lifechanging breakthroughs of the future."
The impact of brain disorders
The World Health Organization (2022) defines brain health as the state of brain functioning across cognitive, sensory, social-emotional, behavioural and motor domains, allowing a person to realize their full potential over the life course, irrespective of the presence or absence of disorder.
Maintaining good brain health benefits our general health, well-being, productivity and creativity. However, there are a number of ways for the brain and spinal cord to become altered. Over a lifetime, one in three people will develop a neurological or neurodevelopmental condition, experience mental health challenges, or acquire a brain injury. The various conditions all result in changes to brain function. As such, it is informative to think about these conditions collectively as brain disorders. This broader grouping unifies an otherwise disparate group of injuries, diseases, and conditions, and brings added awareness and attention to the health consequences and care needs of those affected by all disorders of the brain.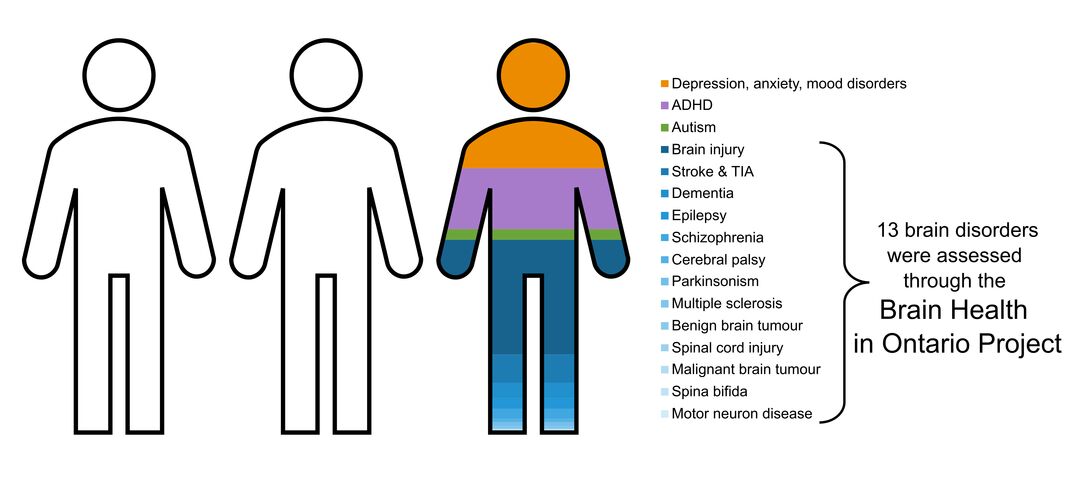 The Brain Health in Ontario Project
The Brain Health in Ontario (BHIO) Project was developed by OBI, using the data sets and analytic services available through ICES, to address knowledge gaps and provide insight into the profile of 13 brain disorders in Ontario as of 2019. The brain disorders assessed were:
cerebral palsy - dementia (including Alzheimer's disease) - epilepsy - malignant brain tumour - motor neuron disease - multiple sclerosis - non-malignant brain tumour - parkinsonism - schizophrenia - spina bifida - traumatic spinal cord injury - stroke & transient ischemic attack - traumatic brain injury (including concussion)
Read about the key findings below.
Note, other prevalent brain disorders like autism spectrum disorder, ADHD, depression, anxiety, and mood disorders were not possible to measure using health system administrative data and are not included in this project or the following data.
Brain disorders occur across age and at various stages of life.
Brain health impacts both sexes. 52% of people with a brain disorder are male and 48% are female.
About 1 in 6 people living with a brain disorder have at least one other co-occurring brain disorder.
Mental health and addictions related health service use is higher for people with brain disorders compared to the average Ontarian.
Direct health care system costs for people with brain disorders are higher than for the average Ontarian, ranging from 2X more for traumatic brain injury & concussion to 18X more for motor neuron diseases like ALS.
Explore key findings on 13 brain disorders
For each of the 13 disorders assessed in the BHIO project, we explored:
age range of people with the disorder
sex ratio of people with the disorder
how many people are living with the disorder from 2011 - 2019
number of new cases identified each year
what other brain disorders commonly co-occur
overlap with mental health and addictions health system use
direct costs associated with health system use
If you would like to learn more about this project and the data, please contact BHIO@braininstitute.ca.
Read more on the creation of the project
For more details click the buttons below.
Authors
Kaela Scott, Program Lead, Knowledge Translation in Integrated Discovery & Informatics, OBI
Angelika Aziz, Knowledge Translation and Outreach Intern, OBI

Fatema Khimji, Informatics Program Coordinator, OBI
Jordan Antflick, Director, Integrated Discovery, OBI
Refik Saskin, Staff Scientist, ICES
Eliane Kim, Senior Research Analyst, ICES Data & Analytic Services (DAS)
Andrew S. Wilton, Research Methodologist, ICES Data & Analytic Services (DAS)
Copyright and referencing
Brain Health in Ontario © 2023 by Ontario Brain Institute is licensed under CC BY-NC-ND 4.0
Suggested Citation:

Brain Health in Ontario: Forming an Integrated Approach. Ontario Brain Institute. February 2023. www.braininsitute.ca/BrainHealth. Licence: CC BY-NC-ND 4.0; http://creativecommons.org/licenses/by-nc-nd/4.0/
*References:
Autism Ontario Annual Report 2019/2020. Autism Ontario; 2020, https://www.autismontario.com/about-us/annual-reports
General Info. CADDAC, https://caddac.ca/about-adhd/in-general/. Accessed January, 2023.
Morkem, R., Handelman, K., Queenan, J.A. et al. Validation of an EMR algorithm to measure the prevalence of ADHD in the Canadian Primary Care Sentinel Surveillance Network (CPCSSN). BMC Med Inform Decis Mak 20, 166 (2020). https://doi.org/10.1186/s12911-020-01182-2
Public Health Infobase. Canadian Chronic Disease Surveillance System (CCDSS); 2019, https://health-infobase.canada.ca/ccdss/data-tool/Index?G=00&V=9&M=5&Y=2017.