CP-NET: Focusing on What Matters Most to People Living with Cerebral Palsy
Accueil
/
Articles en vedette - CP-NET: Focusing on What Matters Most to People Living with Cerebral Palsy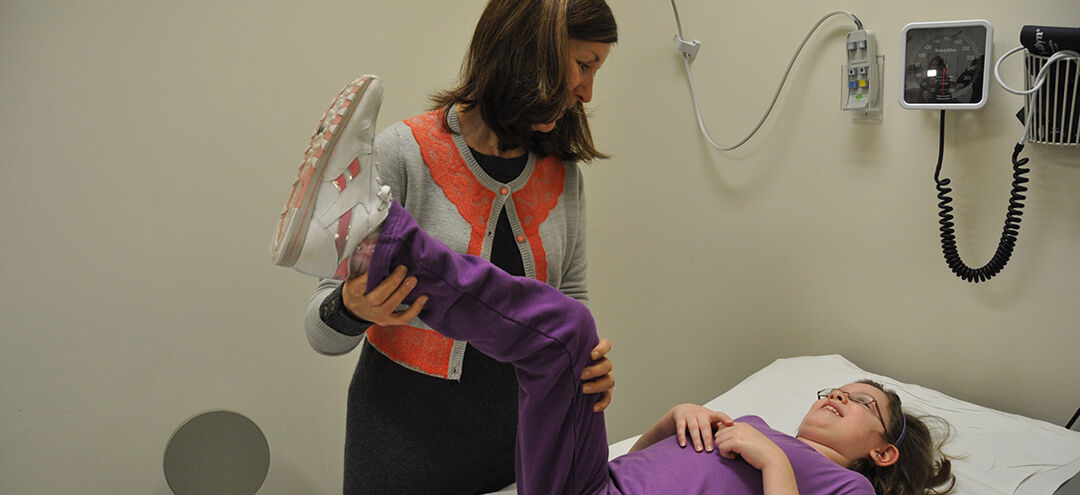 "A displaced hip can become painful, impacting the child's quality of life," shared Dr. Unni Narayanan. Dr. Narayanan is a professor in the Department of Surgery and Rehabilitation Sciences Institute at the University of Toronto. In March 2021, he delivered a webinar entitled "Hip Surveillance in Children and Youth with Cerebral Palsy" to Childhood Cerebral Palsy (CP) Integrated Neuroscience Discovery Network (CP-NET) stakeholders. As an Integrated Discovery Program carried out in partnership with OBI, CP-NET works with researchers, clinicians, and people impacted by CP to accelerate the development of neuroscience discoveries. One of the most effective ways of doing that is to focus on what matters to people living with CP, and in this case, hip displacement is a high priority.

Although the hips of children born with CP are normal at birth, the risk of hip displacement is significantly higher in children with non-ambulatory CP. In some cases this can result in osteoarthritis. "Hip displacement can occur silently (without symptoms), and physical examination alone cannot reliably assess hip displacement," said Dr. Narayanan. Carefully monitoring the hips via X-rays improves the ability to detect hip subluxation early positively impacting the child's life and improving the health care system.
This was one of the gaps in care CP-NET identified by establishing and monitoring health quality markers (HQM) for patients with CP. HQMs are "standardized, evidence-based measures of health care quality." They can be used to track a patient's progress or decline. To determine HQMs, physicians must listen to patients; this is the best way of learning how to improve care. This is a key aspect of a Learning Health System, one of OBI's strategic priorities.
By listening to the priorities of patients and their families, CP-NET standardizes assessments and the identification of several clinical risk factors. Quality clinical care is provided by prioritizing patients' needs. CP-NET's work includes exploring risk factors for individuals with CP. This means looking at data like genetic information, developmental and psychosocial outcomes, and neuroimaging.
During the CP-NET Science and Family Day 2020 conference, Program Lead Dr. Darcy Fehlings led a breakout session focused on the CP-NET Clinical Database. Participants voted anonymously on which of four HQMs were most important for them in the treatment of individuals with CP. The options were the age of CP diagnosis, MRI brain imaging, levels of Vitamin D, and hip X-rays. Sixty-seven percent of the session's attendees said the age of CP diagnosis was the most relevant HQM, while 33 percent said hip X-rays. While CP-NET is also pursuing research that will help shorten the time to diagnosis, this will unfold over a longer time frame. Figuring out how to improve hip X-ray's is a 'quick win' and a way to rapidly to improve care in an area important to patients with CP. The American Academy for Cerebral Palsy and Developmental Medicine recommends hip X-rays to "track the risk for progressive hip subluxation."
"The data related to health quality markers can help identify new initiatives to improve clinical care for children with CP in Ontario," says Flora Wan, the Neuroinformatics Lead in the CP Discovery Lab at Holland Bloorview Kids Rehabilitation Hospital. The project identifies the gaps between the health markers and proposes quality improvement initiatives. By creating the descriptive analysis of health quality markers in the CP-NET Clinical Database, Wan, and CP-NET colleagues like Dr. Darcy Fehlings illustrate how gathering data and engaging with the patient community can help prioritize what matters most.
Dr. Darcy Fehlings — Head of the Division of Developmental Paediatrics and Professor in the Department of Paediatrics at the University of Toronto — is the CP-NET program lead. Throughout her research and presentations, Dr. Fehlings encourages caregivers, especially those of children with CP, to "open up the discussion" when speaking with physicians.
"How pain is experienced is very subjective or personal." As a result, self-report and physiological tools are used in patient assessment. As "no single approach is perfect," treatment is predicated upon the physician's dedication to providing optimal care.
Dr. Darcy Fehlings, University of Toronto
By prioritizing patient-reported issues, healthcare practitioners create a sustainable system and practical understanding of compassion's role in undertaking research that will have a direct impact on the quality of clinical care.