"It's time to think and act differently about brain disorders"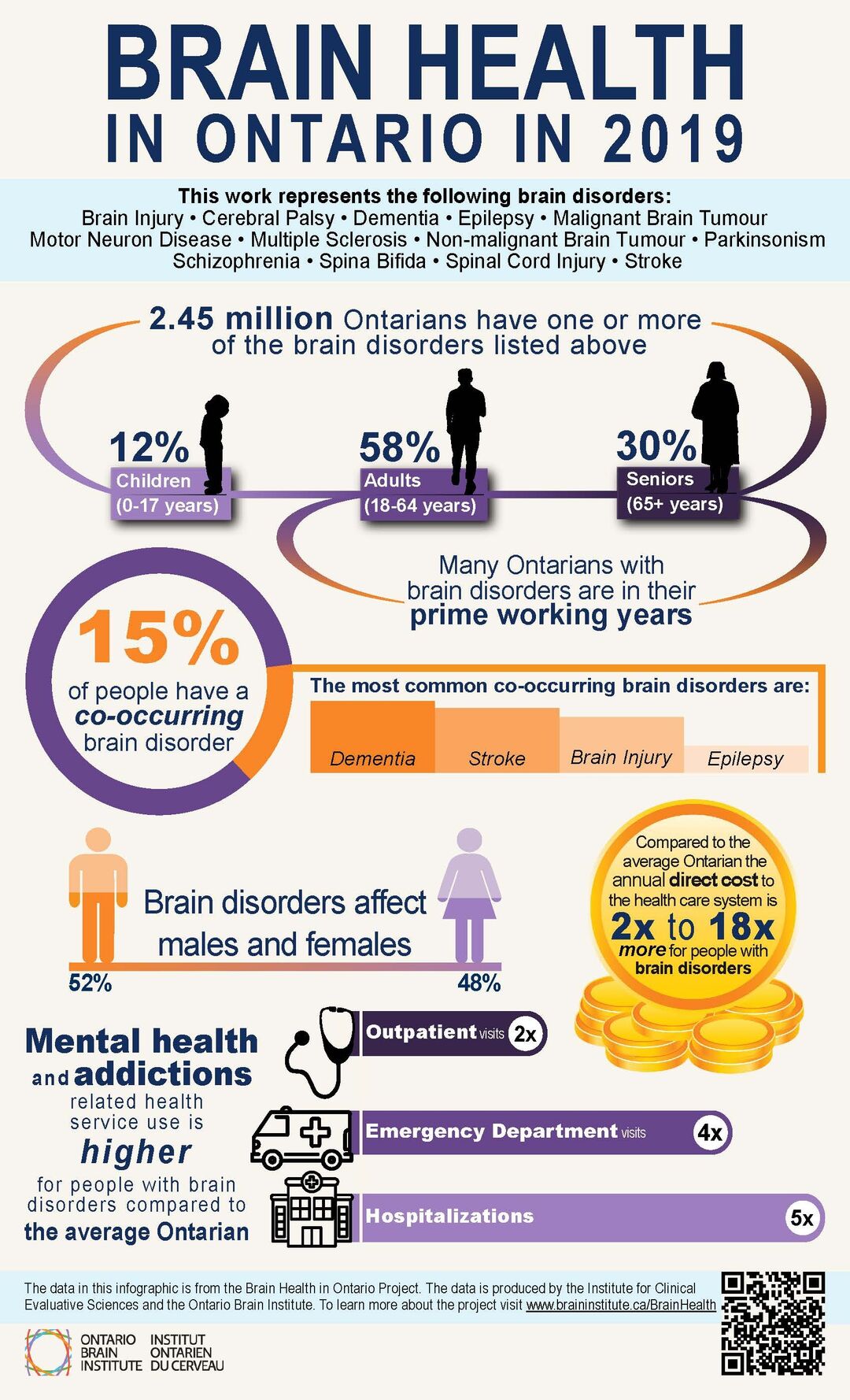 February 28, 2023
New Brain Health in Ontario report offers a snapshot of brain health in Ontario; calls for strategic collaboration between public and private sectors in Canada
Today, the Ontario Brain Institute launched Brain Health in Ontario: Forming an Integrated Approach, a new report that outlines the current state of brain disorders in Ontario and calls for a 'team science' approach to brain health research, echoing a recent position taken by the World Health Organization.

Brain disorders are a leading cause of disability worldwide. In Canada, they have a greater impact on the number of years lived in less-than-ideal health than both heart disease and cancer. The cumulative burden of living in less-than-ideal health has tremendous impacts on individuals, families, society, and the economy.
Using health administrative data, the Brain Health in Ontario (BHIO) report, provides an understanding of the prevalence, incidence, cost, and co-occurrence of brain disorders in the province. Findings confirm that one in three Ontarians are living with a brain disorder or will develop one in their lifetime.
The 13 brain disorders examined in BHIO – defined as conditions linked to, and disrupting of, brain function – are: malignant and non-malignant brain tumours, cerebral palsy, dementia, epilepsy, motor neuron disease, multiple sclerosis, parkinsonism, schizophrenia, spina bifida, spinal cord injury, stroke and transient ischemic attack, and traumatic brain injury, including concussion.
The report also outlines that the direct healthcare system costs for the treatment of people with brain disorders is two to over ten times higher than for the average Ontarian and that one in six people with a brain disorder have at least one co-occurring brain condition. Additionally, data presented in BHIO shows that mental health and addictions related health service use is two to five times higher for people with brain disorders compared to the average Ontarian.
"Brain disorders and their impact on mental health can affect other life areas such as a person's ability to maintain employment, physical health, financial health, and social health," said Dr. Tom Mikkelsen, OBI's President and Scientific Director.
"Knowing the economic and societal impact of brain disorders, it's time to think and act differently about brain health. An integrated team science approach to research that looks across brain disorders will generate the knowledge needed for the lifechanging breakthroughs of the future. And today, we must push for strategies that optimize brain health through strong, strategic coordination and collaboration between stakeholders across public and private sectors."
For over a decade, OBI's collaborative approach to neuroscience research has focused efforts broadly on brain health and supporting advancements in all sectors working to improve the lives of people with brain disorders. By bringing together scientists, clinicians, industry, community partners, patients and their advocates, OBI has accelerated scientific discoveries, invested in home-grown neurotechnology, and supported person-centered care.
"OBI's Brain Health in Ontario report reinforces the very real impact that brain disorders have on the individuals and families experiencing them, and the domino effect that can occur throughout our broader society and economy," said Jill Dunlop, Ontario's Minister of Colleges and Universities. "As Ontario invests in research and innovation across the province, our government applauds OBI's efforts to drive valuable collaboration among scientists, clinicians and patient partners to transform the way in which we study, diagnose and treat brain disorders."
Read the report and learn more about the Brain Health in Ontario project at braininstitute.ca/brainhealth.