Honouring Excellence in Brain Health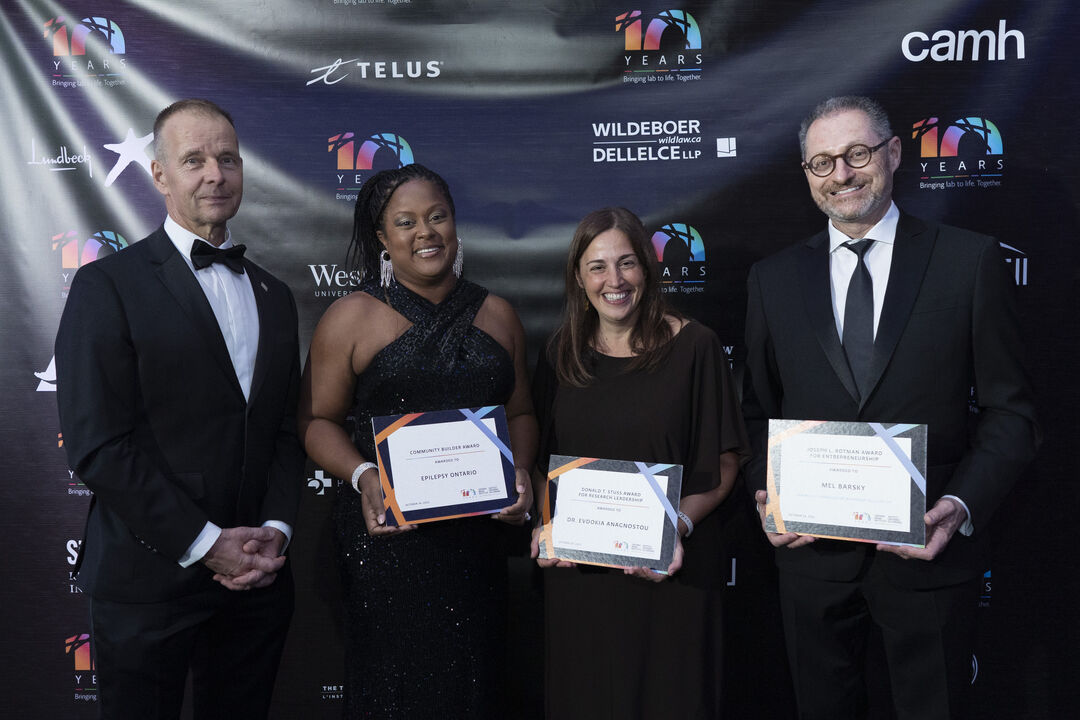 October 25, 2022
The Ontario Brain Institute (OBI) is proud to recognize leadership excellence in brain health research, commercialization, and care with three new prizes: the Donald T. Stuss Award for Research Leadership, the Joseph L. Rotman Award for Entrepreneurship, and the Community Builder Award.
"With these inaugural awards, OBI is acknowledging the strength of three of the many leaders to have been involved with the organization over the years. Their vision and guidance have been invaluable in establishing connections within the Ontario brain health research communities and engaging neuroscience leadership in the province's clinics and hospitals, in the neurotech industry, and within community settings," said Dr. Tom Mikkelsen, President and Scientific Director of OBI.
The Donald T. Stuss Award for Research Leadership, designed to pay tribute to a trailblazer who exemplifies OBI's Founding Scientific Director's qualities of extraordinary leadership while expanding understanding of brain function, injury, and rehabilitation, has been given to Dr. Evdokia Anagnostou of the Province of Ontario Neurodevelopmental Network (POND), one of OBI's six Integrated Discovery Programs. Dr. Anagnostou was also awarded $10,000, which will support her ongoing research into new treatments for neurodevelopmental disorders.
"Don taught us the key principles of frontal lobe function as they relate to leadership: one must set the context through the large vision as well as the immediate focus, establish key principles, manage energization, task setting and monitoring, celebrate success and recognize the distance traveled, and truly understand the importance of relationships. Through her leadership of POND, Evdokia has demonstrated all of these qualities and the network has achieved great success as a result."
- Dr. Kirk Nylen, Deputy Scientific Director, Ontario Brain Institute
The Joseph L. Rotman Award for Entrepreneurship was created in honour of Joseph Rotman, OBI's first Board of Directors Chair. Presented to Mel Barsky of Baycrest's Centre for Aging + Brain Health Innovation (CABHI), the prize - $10,000 of in-kind legal services from Wildeboer Dellelce LLP - underscores leadership in nurturing Ontario's neurotech cluster as entrepreneurs associated with CABHI will be able to access support.
"Mel has been integral to raising awareness about the aging and tech sectors in both Canada and North America. Notably, he has done so at the CABHI through the fostering of partnerships at a variety of levels – with healthcare professionals, neurotech innovators, and with government officials at both the provincial and federal levels. Before Mel, the sector was fragmented and people were doing things in silos, but he brought structure and efficiency to the space as well as more resources. He has done tremendous work to unite likeminded individuals to improve the lives of older adults."
- James Mayer, Senior Manager, Investments & Venture Services, Centre for Aging + Brain Health Innovation
The inaugural recipient of the Community Builder Award, which recognizes those who give back to the community generously through meaningful patient impact as well as providing mentorship to others, is Epilepsy Ontario, an organization credited with uniting Ontario's community epilepsy agencies to work together, share best practices, and speak in a single voice for the 100,000 people in the province who live with epilepsy. With their award of $10,000, the organization will continue to raise the Voices of Epilepsy in Ontario and ensure that all Ontarians have equitable access to information and support services across the province.
"Epilepsy Ontario has helped raise the standard of epilepsy education and support in Ontario to a level on par with the most accomplished and well-resourced epilepsy agencies on the continent. And it continues to work tirelessly advocating for government support to sustain that service excellence and essential stability in the years ahead. We applaud them for their efforts and achievements and commit our continued partnership in aid of their good works."
- Geoff Bobb, Executive Director, Epilepsy Toronto
Read more about the ways in which OBI and its partners are bringing lab to life. Together.
Photo, from left to right: Dr. Tom Mikkelsen of the Ontario Brain Institute, Shelly Philip Laforest of Epilepsy Ontario, Dr. Evdokia Anagnostou of the Province of Ontario Neurodevelopmental Network, and Mel Barsky of the Centre for Aging + Brain Health Innovation. Credit: Kevin Fung