Ontario Brain Institute Releases Open Data on Autism to Enable Faster Scientific Breakthroughs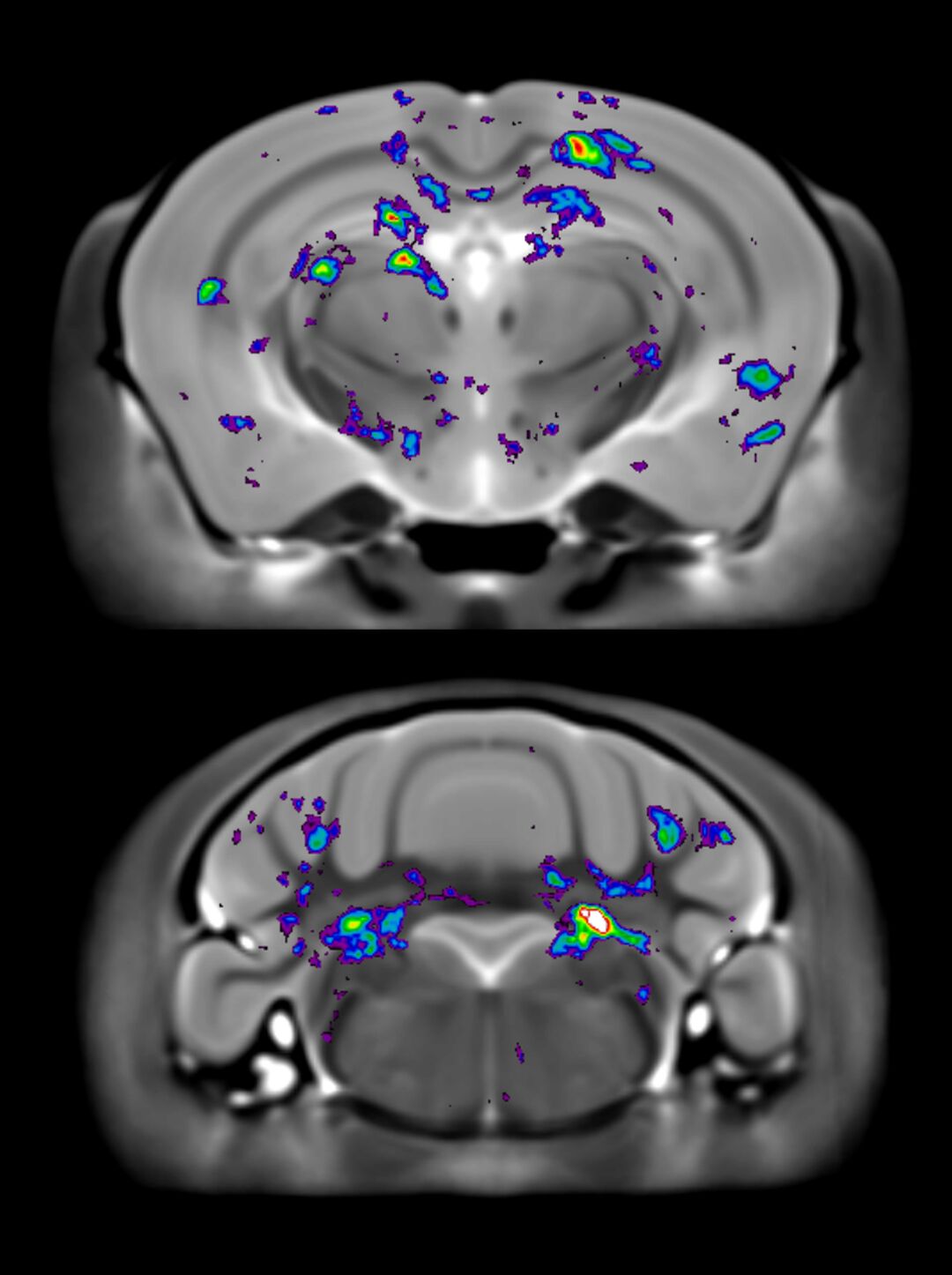 November 14, 2017
Open, high-resolution MRI data from 31 mouse models related to autism will help researchers better understand how autism affects the brain

Toronto, November 14, 2017: Ontario Brain Institute's (OBI) neuroinformatics platform Brain-CODE, offers open access to data for the first time. The project is funded by the Ontario Brain Institute with support from Brain Canada and Canadian Institutes of Health Research (CIHR), and led by Dr. Jason Lerch at The Hospital for Sick Children (SickKids). The high-resolution Magnetic Resonance (MR) imaging mouse model data will help researchers explore how autism affects the brain and accelerate the discovery process leading to better treatments and improved health impact.
The open data release includes 31 mouse models, representing 23 genotypes from an ongoing study with currently more than 90 mouse models by POND, OBI's research program on neurodevelopmental disorders. Drs. Jason Lerch, Jacob Ellegood, Mark Henkelman and their team at SickKids collaborated with multiple national and international research groups to collect MR images with genetic mutations that are known to be associated with autism. The images identify key brain areas affected by autism and capture the complex changes in the brain structure across the mouse model, providing key insights when comparing differences found in people with autism.
"Making this dataset public and open will allow researchers around the world to ask new questions about how the genetic underpinnings of autism lead to changes in brain networks, surely coming up with questions - and answers - that we have not even thought of yet", said Dr. Jason Lerch, Senior Scientist at SickKids.
In the era of big data and the need for innovation from diverse data types, Brain-CODE's design offers the support to manage large volumes of data and enable higher order analytics. Meeting the highest standards of data privacy and security, Brain-CODE's robust governance framework encourages data sharing and collaboration, without compromising participant privacy. In recognition of this, OBI has been designated a Privacy by Design ambassador by the Information and Privacy Commissioner of Ontario.
"This is a critical step for OBI and for the neuroscience research community", says Dr. Tom Mikkelsen, President and Scientific Director of the Ontario Brain Institute. "We believe in doing science differently, and that means breaking barriers to sharing data and increasing collaboration. This crucial step will allow more people to participate in the discovery process through access to high quality, open data."
Brain-CODE supports the research and data management for over 240 researchers from 40 institutions across Canada, making it an unprecedented data sharing enterprise. This data release will be the first of many, as OBI is committed to driving data sharing opportunities and aims to make all of its research data accessible in the future.
Brain-CODE Facts -
Brain-CODE is a large-scale centralized informatics platform developed and maintained by the Ontario Brain Institute (OBI) where data collected from OBI's research programs are curated, stored, shared, and analyzed.
Brain-CODE to date has 16,140 records in total: 14,610 human records and 1,530 animal records across its five principal research areas, cerebral palsy, depression, epilepsy, neurodegenerative disorders (like Alzheimer's disease), and neurodevelopmental disorders (like autism), as well as housing datasets from other research studies.
Brain-CODE represents an unprecedented level of collaboration, with 240 researchers across 40 Canadian institutions contributing and sharing data.
From Brain-CODE's conception, OBI has worked with the Information and Privacy Commissioner of Ontario to design a highly secure platform, where the intent is to maximize both data sharing potential and participant privacy.
OBI was the first research institute given the Privacy by Design ambassador designation by the Information and Privacy Commissioner of Ontario for adhering and committing to a rigorous framework of data privacy and security.
Brain-CODE is designed to link with other national and international databases, allowing collaborations and data linkages that were previously not possible, ultimately enabling next level research and discovery. 
The data in Brain-CODE are standardized, allowing an apples-to-apples comparison of datasets within and between brain disorders. This will enable researchers to explore questions never before possible, like whether the depression experienced by people with epilepsy is the same or different than the depression experienced by people with dementia.
xxx
About Ontario Brain Institute:
The Ontario Brain Institute is a provincially-funded, not-for-profit research centre seeking to maximize the impact of neuroscience and establish Ontario as a world leader in brain research, commercialization and care. We create convergent partnerships between researchers, clinicians, industry, patients, and their advocates to foster discovery and deliver innovative products and services that improve the lives of those living with brain disorders.
About Brain-CODE
Brain-CODE is a large-scale database and informatics platform developed and maintained by the Ontario Brain Institute (OBI) where data streams from OBI's 5 research programs is assimilated, stored and analyzed. The core functionalities of Brain-CODE are data capture, curation and management, federation with other data bases, integration of data, secure data sharing and secure analytics. Brain-CODE helps more than 240 researchers at over 40 institutions across Canada to share their data, and it provides enhanced patient evaluation by combining their clinical, imaging and genetic assessments. Please visit www.braincode.ca 
About The Hospital for Sick Children
The Hospital for Sick Children (SickKids) is recognized as one of the world's foremost paediatric health-care institutions and is Canada's leading centre dedicated to advancing children's health through the integration of patient care, research and education. Founded in 1875 and affiliated with the University of Toronto, SickKids is one of Canada's most research-intensive hospitals and has generated discoveries that have helped children globally.  Its mission is to provide the best in complex and specialized child and family-centred care; pioneer scientific and clinical advancements; share expertise; foster an academic environment that nurtures health-care professionals; and champion an accessible, comprehensive and sustainable child health system. SickKids is proud of its vision for Healthier Children. A Better World. For more information, please visit www.sickkids.ca. Follow us on Twitter (@SickKidsNews) and Instagram (@SickKidsToronto).
For more information, please contact:
Fatima Khan
Senior Program Lead, Communications
fkhan@braininstitute.ca
647 872 1215 ext. 111