Ontario Brain Institute assembles province's Brain Power at Queen's Park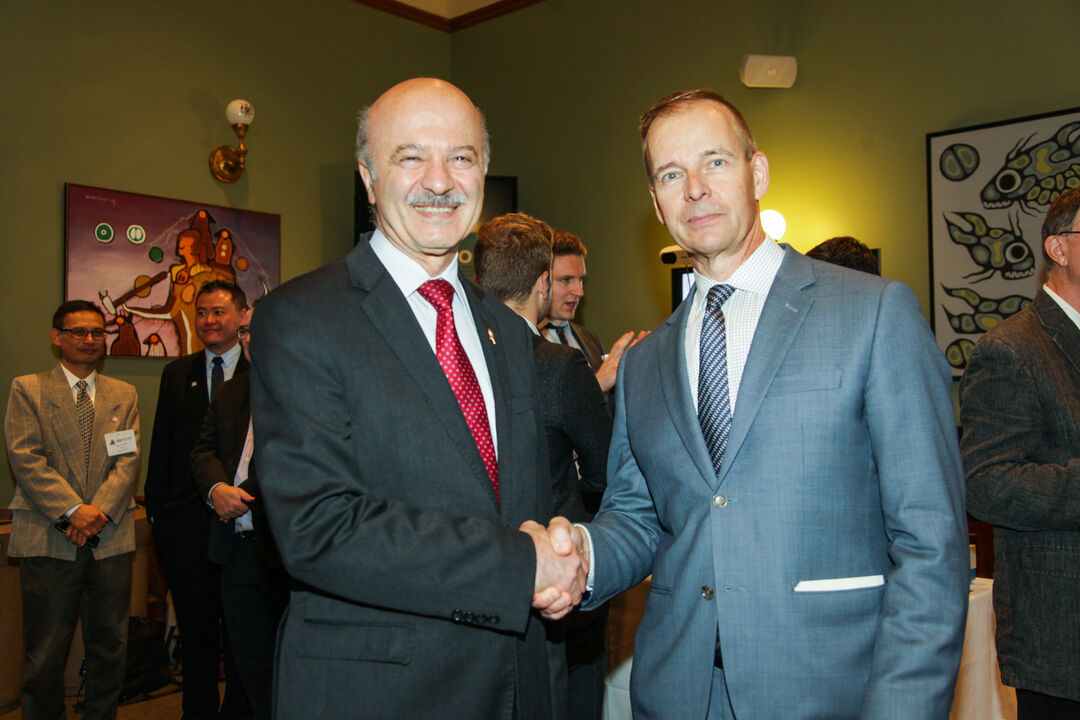 September 13, 2017
More than 60 researchers, companies and patient representatives demonstrate community and economic impacts

Toronto, September 13, 2017: The Ontario Brain Institute (OBI), a provincially-funded, not-for-profit research centre, held "Meet Ontario's Brain Power" at Queen's Park on Monday, September 11, 2017. The event highlighted OBI's work across the province that has positioned Ontario as a world leader in brain research, commercialization and care.
 Dr. Tom Mikkelsen, OBI's President and Scientific Director welcomed MPPs from across Ontario; Hon. Reza Moridi, Hon. Liz Sandals, Julia Munro, Teresa J. Armstrong, Raymond S. Cho, Frances Gelinas, Arthur Potts, Jeff Yurek, Sophie Kiwala, Jim McDonell and Nathalie Des Rosiers to name a few.
 To highlight the extent of work being done across Ontario, some of OBI's 240 researchers, 56 portfolio companies and 21 patient advocacy groups were invited from each of the 5 disorder focus areas including,
Dr. Evdokia Anagnostou, Senior Clinician Scientist at Bloorview Research Institute, lead of the neurodevelopmental disorders research program at OBI;
Brenda Agnew, Director of Three To Be, a neurological charity investing in research and the "here and now" needs of their families and communities; and
Liam Kaufman, OBI ONtrepreneur from Winterlight Labs, a company that assesses speech patterns to assess risk of dementia and other brain disorders.
Reza Moridi, Minister of Research, Innovation and Science added, "Ontario-based research is critical to this province's economy, and helps improve the quality of life for individuals both at home, and across the globe. Ontario's strategic partnerships directly address the needs of the patient community, from research to commercialization to care, and Ontario Brain Institute's showcase demonstrated the strength of those partnerships."
"With one million Ontarians currently living with a brain disorder our collective work has never been more important," said Dr. Tom Mikkelsen, President and Scientific Director of the Ontario Brain Institute. "Ontario's neuroscience community is doing world-class work and discovering new ways to prevent, diagnose and better treat brain disorders, touching every corner of the province. We are fostering the development of Ontario's neurotechnology cluster which will not only generate economic growth, but provide better treatments for Ontarians."
Thanks to the $100 million investment and the vision of the government of Ontario, OBI has made Ontario an internationally recognized leader in neuroscientific research, commercialization, and care and leveraged an additional $205 million into Ontario's economy.
Together, OBI and Ontario's neuroscience community can drive new discoveries and translate them into health and economic impact.
About Ontario Brain Institute:
The Ontario Brain Institute is a provincially-funded, not-for-profit research centre seeking to maximize the impact of neuroscience and establish Ontario as a world leader in brain research, commercialization and care. We create convergent partnerships between researchers, clinicians, industry, patients, and their advocates to foster discovery and deliver innovative products and services that improve the lives of those living with brain disorders.
For more information, please contact:
Fatima Khan
Senior Program Lead, Communications
fkhan@braininstitute.ca 647 872 1215 ext. 111